Insights
Coming Soon
Notable Trading Citations
On Psychology
No one can trade the markets but only one's beliefs about the markets. (Van K Tharp)

The "Holy Grail" is not a magical trading system... it is a journey of self discovery. (Van K Tharp)

There are three basic type of traders: Bulls, Bears, and Hogs... Bulls fight by striking up with his horns. A bull is a buyer, a trader who bets on rallies and profits from a rise in prices. Bears fight by striking down with his pawns. A bear is a seller, a trader who bets on a decline and profits from a fall in prices. Hogs are just greedy and fearful. They are usually late to the party and are the ones left holding the bags. Bulls make money, bears make money, but hogs get slaughtered. (Alexander Elder)
On Technical Analysis
The goal of technical analysts is to discover the balance of power between bulls and bears and bet on the winning group. (Alexander Elder)

Price is a momentary consensus of value of all market participants, expressed in action. Volume represents the emotions of market participants. It reflects the intensity of trader's financial and emotional commitments. (Alexander Elder)
On Risk Management
Markets can remain irrational longer than you can stay solvent. (John Maynard Keynes)

Never bet the farm, bet just a hog or two.
Recommended Reading
Financial Freedom Through Electronic Daytrading*, by Van K Tharp & Brian June
Trade Your Way to Financial Freedom, by Van K Tharp
Trading for A Living, by Alexander Elder
How to Make Money in Stocks, by William O'Neil
Reminiscences of a Stock Operator, by Edwin Lefebre
Riding The Bear, by Sy Harding
Market Wizards & The New Market Wizards, by Jack D Schwager
When Genius Failed (The Rise and Fall of LTCM), by Roger Lowenstein
Understand Derivatives in a Day, by Stefan Bernstein
Options as a Strategic Investment, by Lawrence G MacMillan
Structured Equity Derivatives, by Harry M Kat
Rich Dad Poor Dad, by Robert Kiyosaky
The Cash Flow Quadrant, by Robert Kiyosaky
Your Money or Your Life, by Joe Dominguez (†) Warning!
*This book is a MUST for EVERYONE! Even for non daytraders (like myself). Chapter 3 alone, on business planning, is worth the full price of the book.

(†) This book contains some Marxist doctrine and is heavily biased against capitalism. I am recommending it ONLY because it also contains good advise on how to handle personal finances, how to evaluate goals, prioritize expenses and implement financial discipline.
Performance Metrics 4Q 2009
(†) Excludes capital gains
(*) Includes only realized capital gains
(**) Assuming 6% yield
| | | |
| --- | --- | --- |
| | Honduras | USA |
| Current Potential | 27.51% | 10.09% |
| Remainder to Goal | 72.49% | 89.91% |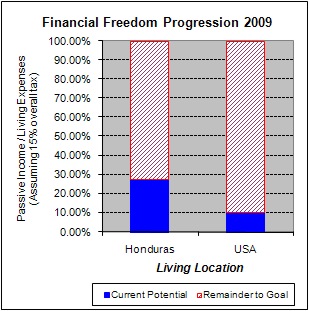 RASXX Performance 1-Year as of 12/31/09